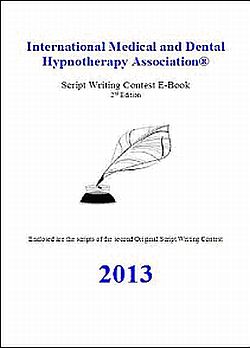 This book is a 144 page compilation of 40 scripts on various topics. It's the second volume in a series of script ebooks created as a result of the official IMDHA Script Writing Contest. Topics Include: Pair o' Ducks: by Dave Berman. Smoking Cessation: by Thomas W E Budge. Relaxation: by Patty Ceja. General Goal and Inner Connection: by Janis Cline. The John Wayne Script: by Ann Lynnette Eyers. Developing Confidence – The Star of the Show: by James Guinta. Feeling Healthy: by Zoilita Grant. Safe Baby: by Alice Graves. Relaxation Self Hypnosis: by Anine Grumbles. Fear of Flying: by Aline Hoffman. Script for Tinnitus: by Aline Hoffman. Attention, Concentration & Focus Master: by H. Mark Kandel. Brain Injury Repair: by Jacqueline A. Kania. Life and Golf Script: by Chris Kennedy. The Perfect Cell Script: by Claudia Klein. Your Friend The Tree: by Charles Klennert. Gain Self Confidence: by Attila Kun. Relaxation: by Attila Kun. Reshape Your Body – Loose Weight: by Attila Kun. Study & Concentration: by Attila Kun. The Ten Step Deepener with Gift: by Denise Lee. Hypnosis for CPAP Use: by Denise Lee. Self Love – Self Acceptance: by Natalie Levadnania. Law of Diminishing Returns: by Adrian Madril. Out of Nature - Releasing the Layers: by Stacy Merritt. Performance Session – Singing & Playing: by Julia Mueller. Restoring My Vision: by Julia Mueller. Sleep Script: by Julia Mueller. Daily Gratitude: by Susan Mueller. Waterfall: by Wendy Olson-Lepchuk. Release of Foreign Energy: by Sunil Prakash. Weight Loss: by Sunil Prakash. Food Is Fuel: by Paula Presnoples. Faith in Lord Shiva: by Richa Agaarwal. Attitude of Gratitude: by Patricia Scott. Sail To Your Goals: by Lindy-Lee Shepherd. Induction for Busy Minds: by Terra Tremlet. The Gang of 20's (Smoking Cessation): by Alfredo Velasquez. Improved Performance Study Skills/Test Taking For Teens: by Uma Venkataraman. Metaphor Script for Emotional Eating: by Vickie Winger.
Price $22.00
Ebook Download $22.00
***DUAL MEMBERS***
YOU MUST BE LOGGED INTO YOUR IACT ACCOUNT TO RECEIVE DUAL MEMBER DISCOUNTS!