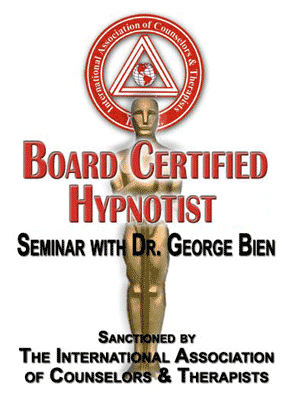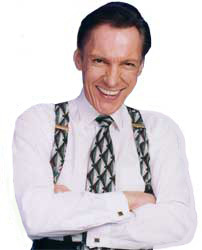 An Online
Interactive Training with
George Bien!
NOTE: This is NOT a simple, "write a paper and/or take a test", type of Certification that is offered by other hypnosis organizations.
This is an interactive, "hands-on", online (Zoom) training!
High Speed Internet Recommended!
Next Training: Saturday and Sunday, April 20 - 21, 2019!
10:00 AM - 6:00 PM EST (Eastern Time)
(Working Lunch 1:30 – 2:30 PM, each day)

---
Add the coveted Board Certified Hypnotist (BCH) credential after your name!
This is a 16-Hour, "Graduate Course" in Interactive Hypnotherapeutic Techniques and Strategies! Two-days online (8 hours each day).
"working lunch" each day.
The basic tenets of the training are listed below. However, each class has its unique quality, and George Bien's "30-plus years" in the field, enable him to streamline and systematize the training as needed, in "real time".
Note: This program has been updated, and much has been added since the last time it was held! (Ask about the special price for course repeaters).
Also added: The workbook in audio (Two Mp3's Male/Female voices).
Basic Program Outline:
Dealing with Limiting Beliefs.
Stages of Change/Principles of Change.
Transtheoretical Model of Behavioral Change.
Primary Factors that Create a Readiness for Change.
12 Reasons for Resistance to Change.
Boyne's Therapeutic Model, including readiness for change.
Effective Interviewing/Protocol, and "EARS" Model.
Basic Interviewing Do's and Don't's.
Getting one out of his/her comfort zone.
Conflict Management.
Working with Difficult Clients.
The Three Basic Types of "Attention Seekers".
"Ego" verses "Help".
The Pyramid of Influence.
Helpful ways to tell if the client is really telling the truth.
Dealing with Clients who Lie.
Common dialogues going on in the "deceptive mind".
Pre-Induction Interview and Protocol/Separating impact from intent.
Dealing with Client's Basic Core Values.
Proactive Twelve Steps.
Getting Clients to Commit to Change.
Cognitive Reframing.
Weitzenhoffer's Categories of Experiences by Hypnotized Subjects.
Major Styles for Evoking or Inducing the Hypnotic State.
Keys to Effective Suggestions.
Wolinsky's Axioms of Hypnotic Suggestion.
Utilization of Oppositional Trances.
Lifestyles as Reflections of Clients' Core beliefs.
Utilization of Oppositional Trances.
Pseudo-Orientation in Time.
Paradoxical Intention.
Utilization of Burton's Limiting Beliefs.
Implementing Change.
The AAAbc Stress Decision-Making Model.
Dealing with Automatic Thoughts
The Three Levels of Insight Necessary to Create Change.
Dealing With the Eleven Basic Fears.
Effective Hypnotic Inductions.
Induction Protocol.
Bien's Style Inductions.
Bien's Sensitized Body Awareness.
Leading Hypnotic Language.
Utilitzation of Trigger Words.
Utilization of Aristotle's Seven Causes.
Advanced Ideomotor Techniques.
Positive/Negative Ideosensory Techniques.
Bien's Dynamic Word Association Techniques (including written demo script).
Principles of Success.
"Ego State Therapy", Internal Family Systems Model (IFS)
Connection of Feelings. Boyne's Style; Bien's Style.
Hypnotic Dialogue.
Effectively Dealing with Challenges During Hypnotic Dialogue.
Emotional Clearing.
Four categories of Sleep Disorders.
Working with Dreams.
Guidelines for Dream Analysis.
Creative Behavioral Modeling.
Exploring Performance from Multiple Perspectives.
Effective Modeling Change Techniques.
Guidelines for Formulating and Delivering Effective Metaphors.
And, Much More!
Benefits:
You will refine what you already know.
You will add additional interactive "change" techniques and skills to your repertoire.
You will be part of an environment filled with like-minded, "movers and shakers" in the field and interact with your trainer without having to leave home.
You will receive two dynamic videos (MP4 files) of George conducting trainings at major hypnosis conferences: "My Favorite Induction" (2001) and "Accessing the Hypnotic Super Self!" (1999), often called "the most dynamic presentation" ever given at a conference! The audience was riveted! You will also receive a third video of George conducting a hypnosis training (1996), demonstrating numerous inductions, even sticking his hand in a "wolf trap"! Watch the videos and conduct your dynamic trainings!
You will gain the prestige of being a Board Certified Hypnotist (BCH) with the International Association of Counselors and Therapists IACT).
Minimum Requirements for BCH Designation:
Successful completion of the material and  Class Practicum.
Demonstration of having a strong moral character, and dedication to the field of hypnotherapy.
Prerequisites for attending this program:
You must be a certified member of the International Association of Counselors and Therapists (IACT) in good standing.  Certified members of the International Medical and Dental Hypnotherapy Association (IMDHA) can contact IACT  at: 570-869-1021 Or, email IACT at: staff@iact.org with questions on applying for IACT certification.
You must have a minimum of two (2) years of work experience in the field of hypnosis/hypnotherapy.
Successful graduates of this program will become Board Certified Hypnotists (BCH), with the International Association of Counselors and Therapists (IACT), the World's Premier Complementary Healthcare Organization. www.iact.org

"I believe that he (George Bien) is the greatest at this time."
—Dr. John Gatto, Co-founder of the First New Jersey Hypnosis School licensed by the Board of Education; Past President of the Council of Professional Hypnosis Organizations (COPHO)

"George Bien is a pioneer in the field of hypnosis. He brought me into the field and I consider him to be a mentor of mine. I believe that George is one of the top three hypnotherapists in the world!"
—Dr. Wil Horton, Psy.D., CADC, International NLP Trainer; Founder and President of the National Federation of Neuro Linguistic Programming (NFNLP).
Venice. FL

"I owe my career in hypnosis to George Bien. Every time he would come into Boston, I was in his training, kind of like a 'groupie'. I refer to George constantly, and can't think of anyone else who had such an impact on my career in hypnosis!"
—Marie (Mickey) Mongan, M.Ed., M.Hy., Founder of "HypnoBirthing®", and the Internationally Acclaimed, "Mongan Method"; Best Selling Author, "HypnoBirthing: The Mongan Method"; The first woman in the world to receive the Rexford L. North Memorial Trophy (the "Oscar" of Hypnosis)!

"George is a wonderful and knowledgeable teacher. I was honored to take his Board Certification (BCH) course in hypnotherapy. I've enriched my database of effective techniques and had a great time during the class. Even the test was very inspirational and rich in interesting resources for further research. Thank you George!"
-Lin Shlonsky, Self-Development Facilitator, Board Certified Hypnotist, Owner and operator of "New York Hypnotherapy and Meditation", Brooklyn, NY

"George has allowed me to see that our lives are truly built around our perceptions and that we can alter our perceptions so that we can empower ourselves to achieve the greatness that we were intended while living in this physical plane of existence. Absolutely one of the greatest experiences I have ever had!"
—Capt. Simeon N. Cumberbatch, Retired Police Captain, Director: Self-Empowerment Center, Hoboken, NJ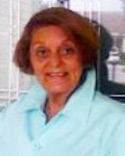 "Particularly after our Board Certification class (BCH), I have been emphasizing your style George—sensitized body and hand awareness. I am using it for induction and then using your style association protocol as we did in class. The results on the three clients on which I tested the above, were absolutely dramatic to say the least. And all in one session. The three clients who came in, were not the same ones that left! Thank you so much George!" -Blessings,
Rev. Gloria Alexander, CHt, MNLP, CI, CMT, BCH
Board Certified Hypnotist, Certified Hypnosis Master Trainer
"Abundance Hypnosis", LLC West Palm Beach, FL


"George brings a gentle intellect and a wealth of experience to his training, with an ability to bring out in each of the participants, their best selves as practicing clinicians, and as human beings. You know when you are in the presence of a 'true' master. And, I say that with all sincerity."
—Dr. Eric L. Rosen, PhD, CMT, FPPR (Diplomate Fellow in Psychopharmacology), Licensed Psychologist, Professor (Doctoral Program), Argosy University-Tampa, FL
After registering, your workbook will be emailed to you as a PDF file (approx. a day prior to start of the class.)
You will also receive Two MP3 "audio files" of the workbook (male voice and female voice). The videos and related audios ("My Favorite Induction" and "Accessing the Hypnotic Super Self!"), and the "inductions" will be emailed to you via "WeTransfer" right after the training.
Next Training: Saturday and Sunday, April 20 - 21, 2019!
This is an interactive, "hands-on" program via Zoom interactive video!
High Speed Internet Recommended for the Online Training!
Educational Investment: $595.00 USD! Includes IACT Board Certification Fee.
Certified by the International Association of Counselors and Therapists. The World's
Premier Complementary Healthcare Organization!
(Note: Specific prerequisites apply: see above).
To register, or for more info, contact the International Association of Counselors and Therapists (IACT) at 570-869-1021. Or, email IACT: staff@iact.org
Register on-line in our store.