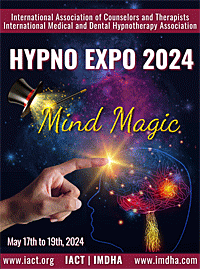 Hypno Expo 2024 Conference Catalog Sections
Section 1: Hello and Welcome
Section 2: Keynote Address
Section 3: Esteemed Presenters
Section 4: Conference At-A-Glance
Section 5: Lectures
Section 6: Workshops
Section 7: Full-Day Courses
Section 8: Master Trainer Program
Section 9: Entertainment
Section 10: Virtual Conference
Section 11: Printable Registration Form
Full Catalog Download
You asked for an alternative to attending conference… and we delivered!
The international Association of Counselors and Therapists and the International Medical and Dental Hypnotherapy Association have once again joined forces to offer you an extraordinary opportunity for continued education, personal growth, and advancement in the profession.
This year, we're excited to offer you the option of choice: attend live 'in person' join us via a live stream.
When you attend Hypno Expo you are assured of a stimulating and enriching experience.
Virtual Streaming Conferencing brings the conference to you – LIVE over the internet! This means you can attend the conference without ever leaving your home or office. Virtual conferencing is the wave of the future and we're happy to have been the first hypnosis organization to offer this option. …Remember, attending the conference fulfills your annual obligation of continued education.
So, register for conference today! We've taken steps to ensure that your registration experience is quick and easy. Online Conference Registration is available here. You may also register by calling Hypnosis Headquarters 570-869-1021, or download and print the conference registration form. A dedicated fax line 570-869-1249 (private and secure) is available 24 hours a day.